Hypnotherapy
Free Yourself From Anxiety, Stress & Fear
Hypnotherapy at BBK Psychotherapeutic Services is a well-respected method to face your fears, reduce anxiety and manage stress. Hypnosis helps you:
Strengthen self-confidence.
Strengthen self-esteem.
Reduce anxiety & panic attacks.
Manage fears and phobias.
Social anxiety, test anxiety, anxiety associated with driving, flying, public speaking, sports performance, fears and phobias, and anxiety related issues such as compulsive eating and sleep problems.
Questions or Concerns? Please do not hesitate to call us at (714) 543-0483, or submit a contact request on this page.
View Our Flyer!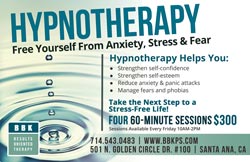 Call (714) 543-0483 to Make an Appointment
Sessions Available
Every Friday 10AM-2PM
Schedule an Appointment Today!